Coffee House Scented Wax Melt
 Coffee House:  This is the coffee fragrance you've been waiting for.  Dark, roasted coffee-bean fragrance with a touch of chocolate.  Smells like walking into your favorite coffee shop.
WE ARE SOFT!  Our melts are made with a soft wax that melts at a lower temperature and releases more fragrance than most other brands.  If you have any difficulty popping them out of the clamshell, a few minutes in the freezer will quickly remedy the problem.  The low melt point allows more fragrance to be released into the air when placed in your melter.
DISCLAIMER: Just Makes Scents is not affiliated or associated with Yankee Candle®, Bath & Body Works®, Victorias Secret®, Abercrombie & Fitch®, Scentsy®, Clair Burke®, Giorgio®, Calvin Klein®, or any other name brand corporation. Buyers should not be confused between their products and ours.
Customer Reviews
01/03/2021
Kinnie A.
United States
Awesome product
This product is awesome. Smells just like brewing coffee or espresso.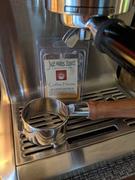 12/09/2020
Babette P.
United States
Best Coffee Scent EVER!
Love these wax melts, it's like smelling Starbucks throughout your own home!!!
12/05/2020
Vernon W.
United States
Delicious smelling coffee!!!
Very pleased with the wonderful aroma of coffee in these wax melts